Personal Finance and Purchases
Forget complicated paper work and long procedures. Get all the personal financing you need hassle-free.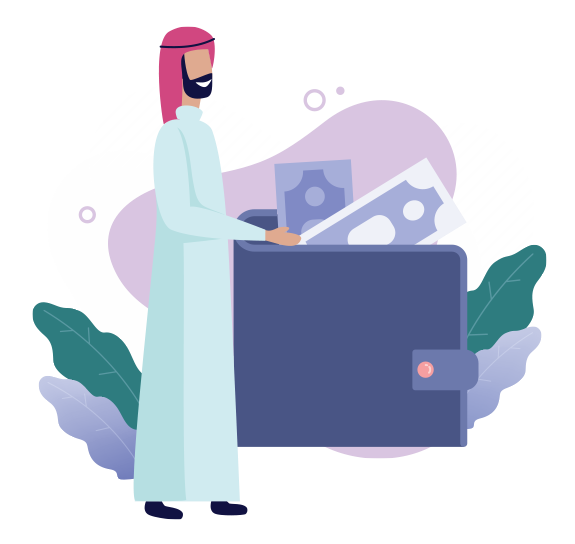 We offer personal financing tailored to your individual needs
Date of last pricing update 11/09/2023
Getting cash with Naqdi is easy
Thinking about getting a new car? New furniture? Or even getting married? Whatever your desires, you no longer have to wait. Get up to SAR 100,000 instantly with Quara Finance and pay back in convenient installments.
Naqdi
Enjoy fast and easy financing for all your personal needs
The benefits:
Financing up to SAR 50,000
Quick and easy approval process
Repayment period of up to 5 years
All nationals and residents in Saudi Arabia qualify
No administrative fees
Sharia Compliant
Sponsorship not needed
Salary transfers not needed
The conditions:
Good Credit history
According to the Central Bank of Saudi Arabia, a guarantor must be added if financing amount is more that SAR 100,000
Sector
Salary
Guarantor
Service
Min. Age
Max. Age
(At final
installment)
Tenure
Min.
Finance
Max.
Finance
Military (Officers)
4000 SAR
NO
6 Months
21 years
Depends on the rank
60 Months
5000
50000
Military (Non officers)
6 Months
25 years
Depends on the rank
50000
Saudi (Government & Private)
3 Months
21 years
60 years
50000
Retirees
/
/
70 years
50000
Non Saudi (Government & Private)
24 Months
25 years
50 years
50000
* Terms and conditions apply
Required Documents:
A valid National ID / resident ID
A completed financing application form
For a Saudi government employee: proof of income for a period not exceeding 90 days
For a resident government employee: proof of income for a period not exceeding 30 days
For private sector employees: proof of income for a period not exceeding 30 days
Account statement showing salaries for the last 3 months
Certificate of terms and wages for private sector employees
Tasawwaq
Anything you want now? Or is there a show you just don't want to miss? Shop from our extensive network of retailers with Tasawwaq Financing and pay back later in easy and convenient monthly installments. No down payment or guarantor necessary!
The Benefits:
Financing up to SAR 100,000 (depending on partner retailer)
Quick and easy approval process
Repayment period of up to 3 years
All nationals and residents in Saudi Arabia qualify
Sharia Compliant
Sponsorship not needed
Salary transfers not needed
Sector
Salary
Service
Guarantor
Min. age
Max. age
Tenure
Min. finance
Max. finance
Retirees
4000 SAR
-
NO
-
70 Years
36 Months
2500 SAR
100000 SAR
Military (Officers)
6 Months
21 Years
Depends on the rank
Military (Non officers)
6 Months
25 Years
Depends on the rank
Saudi (Government & Private)
3 Months
21 Years
60 Years
Non Saudi (Government & Private)
24 Months
25 Years
50 Years
* Terms and conditions apply
Required Documents:
A valid National ID / resident ID
A completed financing application form
For a Saudi government employee: proof of income for the last 3 months
For private sector employees: proof of income for the last month
For the public sector: Account statement showing salaries for the last 3 months
Certificate of terms and wages for private sector employees